Oct 13
How to Choose a Playground Theme Everyone Will Love
Share
Subscribe to our blog
Everyone has heard of birthday parties having a specific theme, but what about playground themes? A themed playground gives kids new engaging ways to play, exercising their creativity and expanding their imagination. They're also an attractive focal point for your community, enticing people of all ages to come out and play. Let's explore playground themes more and how you can pick one for your space.
What is a Playground Theme?
Playgrounds are the ultimate learning environment where children can make discoveries and make friends as they engage in multi-sensory activities. A themed playground offers a memorable experience centered around a particular idea — nature, space, animals, etc. — that will stick in families' minds, get them to stay and interact with one another, and encourage them to return.
Additionally, playground themes help kids organize their learning and make connections between new concepts and their lives. They're also great for kids of all different abilities and talents. With the various components of a themed playground, there's sure to be something for everyone to enjoy, which inspires families to keep playing together. Not sure what theme or themed playground equipment to consider? Keep reading.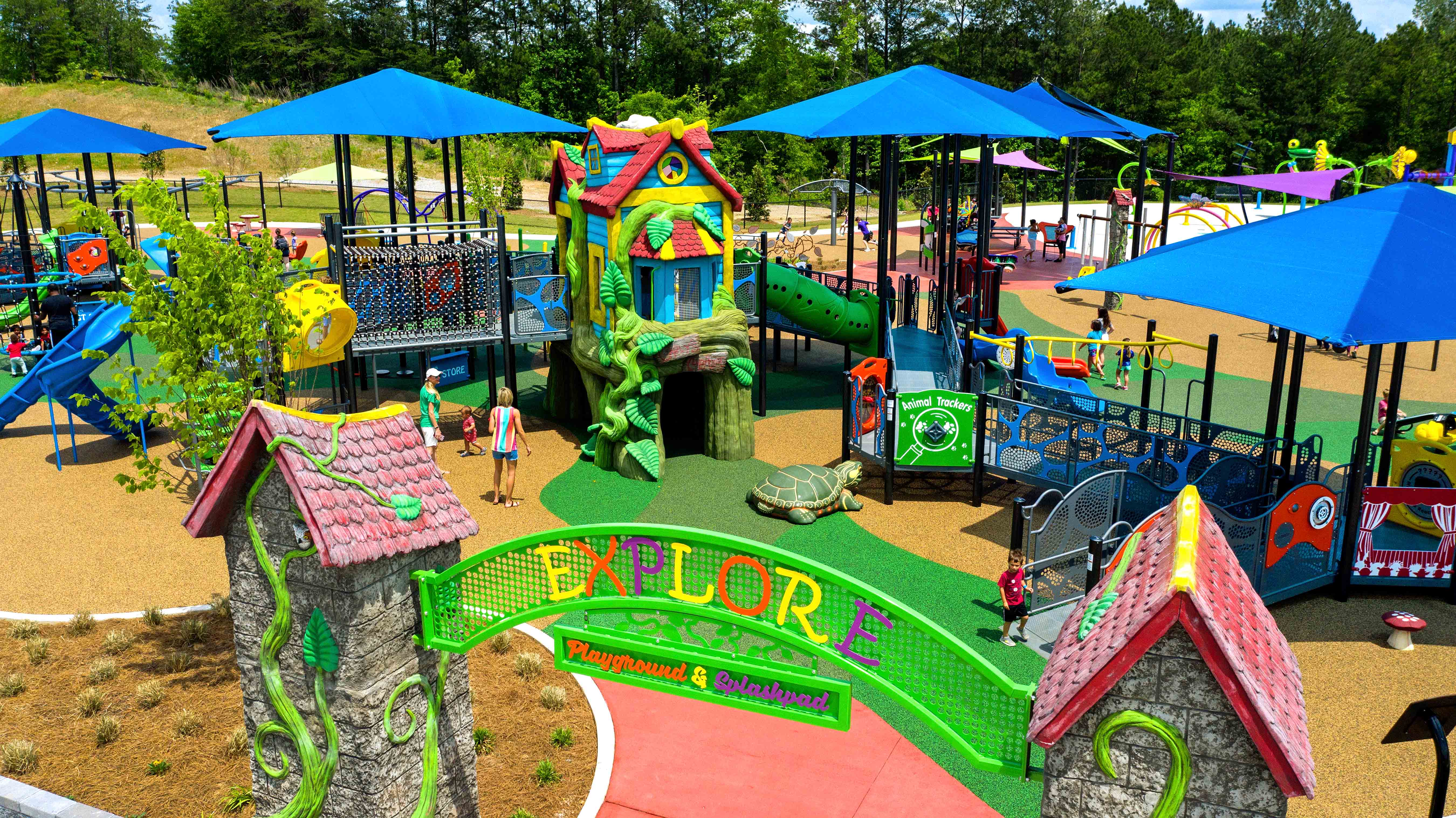 Themed Playground Equipment
Helping your playground theme come to life may seem like a dream that can't possibly come true, but it can be a reality with the right custom design! You can incorporate several different themed pieces of playground equipment to create a beautiful space or start small with just a few structures here and there. Here are a few examples we've seen from GameTime and Lappset:
GameTime

combines equipment with the creativity and inspiration of local architects, parents, and community groups to create themed play spaces. Kids can climb and play on things like giant frogs, baseball bats and netting, castles, arch climbers, rail climbers, tree stump climbers, inchworms, whale heads, music panels, drum panels, and more. Everything is crafted with safety in mind, ensuring that your piece is fun to look at and safe to play on!
Lappset Premium

also combines architecture with art to build unique custom and themed landmarks that will make your playground unforgettable. The Dino play structure, for example, has many play functions, from slides to climbing and balancing elements — all while having the obvious structure of a dinosaur! The medieval castle has everything from a dance arch to voice tubes and other components for all ages and abilities.
Most themed playgrounds use custom equipment and more traditional structures like slides and towers. But how do you know what equipment to ask about? Dive into different examples of complete playground themes below.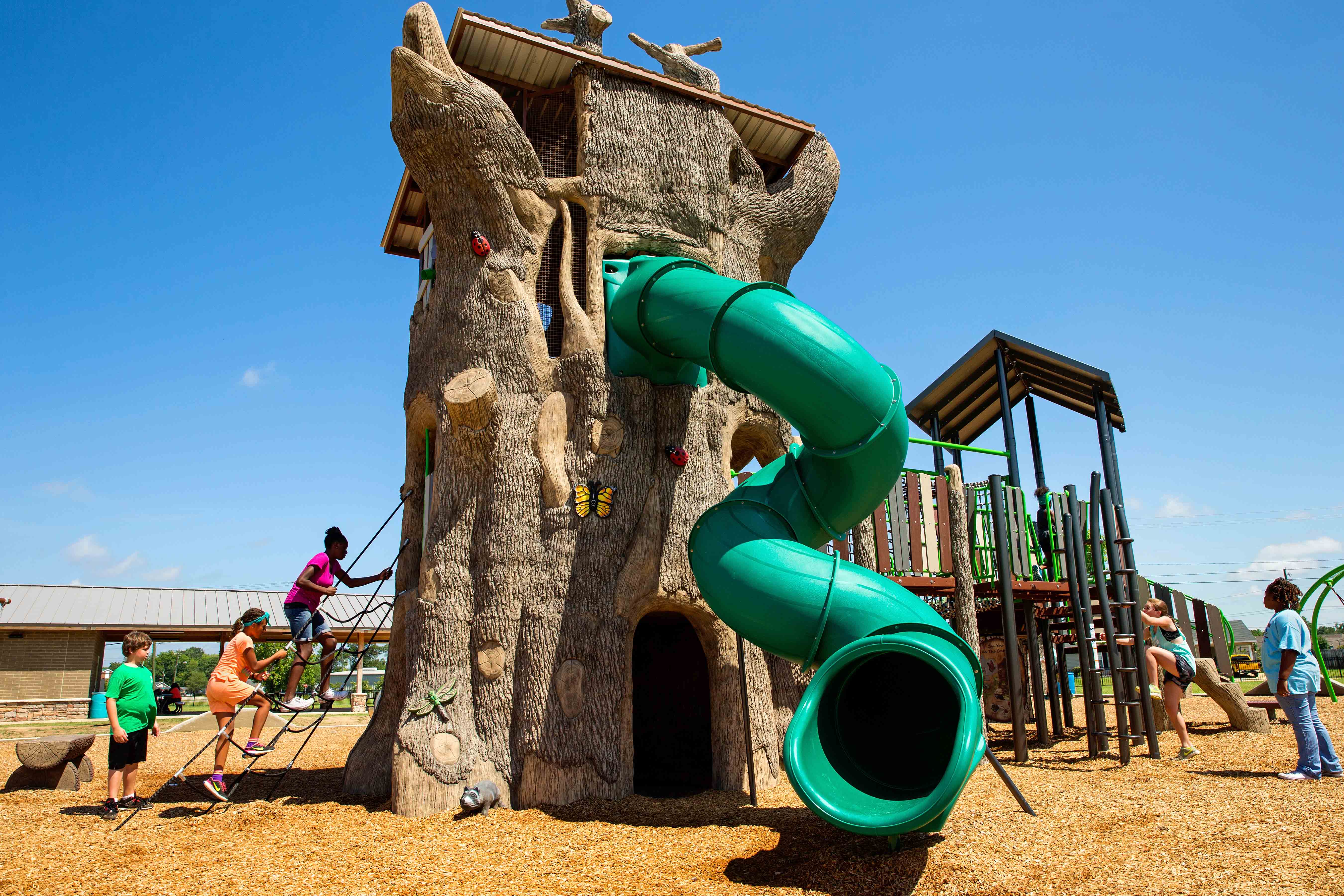 Playground Theme Examples
Did you know that the American Academy of Pediatrics suggests limiting children's screen time to no more than one or two hours a day? This is just another case for building a themed playground. In today's world of smartphones and television, it takes a little extra to grab kids' attention. That's not as difficult with an engaging playground theme. As promised, here are some great examples (including ideas on what to have in your playground) that everyone in your neighborhood will love:
Jungle or animal-themed.

Lions, tigers and giraffes are just a few favorite animals kids tend to list first. A jungle theme allows you to include lots of colorful playground equipment that will catch their eye. Try incorporating a hand-sculpted lion that kids can climb on and pretend to ride into the theme. Kids will also look forward to climbing ladders that look like vines or hanging around on a net structure.
Historical themed.

History themes are an excellent option for inspiring pretend play that reinforces lessons kids learn at school. Consider setting up a pioneer theme that comes complete with a blacksmith shop and hitching post. Or, your students might love a classic dinosaur setup that allows them to run and skip along to avoid the hot lava.
Futuristic.

A futuristic theme beckons kids to engage with the play area in new ways. Playing with interactive equipment stimulates kids' minds while they burn off energy. Modular structures combined with metal art create a high-tech feel that makes the community feel like they're living in 2070!
Space themed.

Kids are fascinated by anything to do with the solar system, and you can work with your designer to create the perfect out-of-this-world playground landscape. Consider turning a climbing structure into a rocket that encourages children to pretend to be astronauts as they are about to take off. With this theme, you'll also discover that the sky's the limit as round swings suddenly become flying saucers and footholds become craters on the jungle gym. Spinners can even give the sensation of going into orbit as they head into the next galaxy.
Fantasy themed.

From princess castles to superheroes, children love to act out their wildest fantasies on the playground. Give those who come to your playground the perfect background to role-play their favorite stories and make up a few of their own by adding elements such as action figures to the play area. If you need inspiration, check out the trending books, shows, and movies to find fantasy figures that will get everyone excited to go to the park.
Nature themed.

If you're looking to build a playground in an urban area with very little green space, a nature-themed playground is a fun way for the community to feel the beauty of nature. Faux stone and

natural wood playground equipment blend natural elements into the design plan and create an inviting space. Young kids will naturally enjoy a state of mental relaxation while they challenge their bodies.
Aquatic and nautical-themed.

Kids love the ocean, and an aquatic theme allows you to incorporate animals, water features, and exciting surfacing into the playground design. Consider having custom-built whales floating just above the blue safety surfacing so they can climb and pretend to ride. Ocean themes work perfectly with

splash pads, but you can also use them to ignite children's imaginations. With the proper planning, you can create an environment fostering mermaid exploration one day and marine biology discoveries the next.
How to Get Started on Your Themed Playground
One of the most exciting parts of planning a playground is choosing a playground theme. Hopefully, the above ideas on themes and pieces of equipment have stirred up some ideas. Whether your next playground is for a school or another space, you'll surely attract many kids and families with your new theme. Need help picking yours? We're happy to lend a hand whenever you need it!